How to Choose A Best Waterproof Camera Backpack
The importance of a fully waterproof camera backpack becomes very clear once you're out and about with you valuable gear during heavy rains. Even when you're not shooting in the rain, but trekking across brooks or misty mountains, is it important to wear a waterproof backpack to avoid your camera from malfunctioning due to the very humid environment.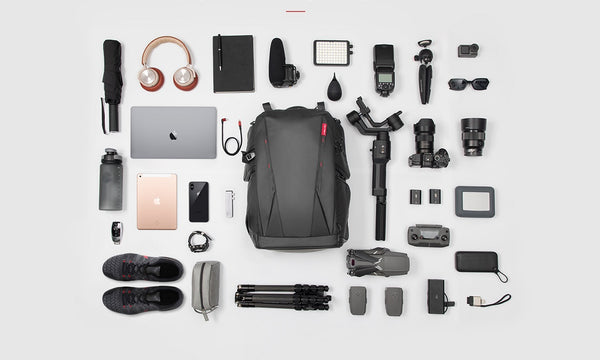 This is why we create our high-end backpacks, which are all waterproof and have thoughtful design choices from the fabric we use to the zippers we install.
Waterproof fabrics
One of the most important aspects of shopping for a quality camera backpack is that the materials used are water repellent. What follows are waterproof backpacks that are all made from different materials.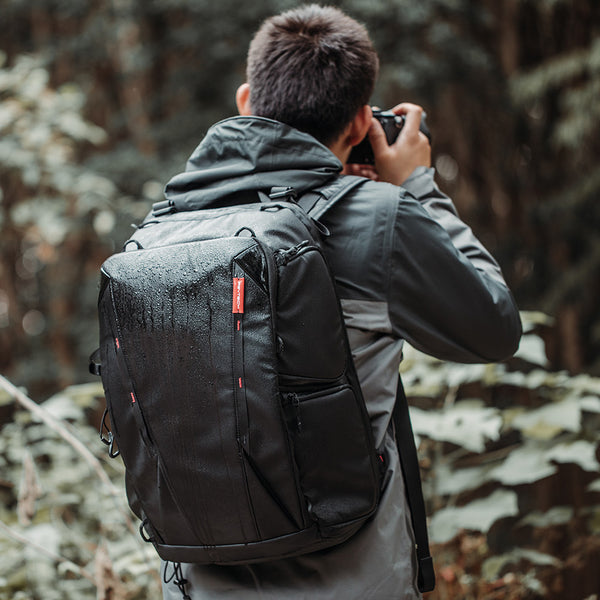 Waxed canvas camera backpack
Advantages of a waxed canvas camera backpack
Canvas backpacks attract people who like a vintage look. These days, there are many different variations on the traditional canvas backpacks. A waxed canvas backpack uses cotton that is dipped in wax or oil to increase their water repellent properties.
Disadvantages of a Waxed Canvas Camera Backpack
The downside to waxed canvas backpacks is that they're hardly completely waterproof. They slow down moisture, but it's a temporary solution. Also, the bags are usually hard to clean and not equipped for rugged use as an outdoor camera bag.
Leather camera backpacks
Advantages of a leather camera backpack
A good quality leather camera backpack is built to last and is almost like an antique. It's stylish, expresses your aesthetic taste, but it also requires a lot of time to keep it in great condition. Unlike canvas, leather is a lot more durable and water repellent.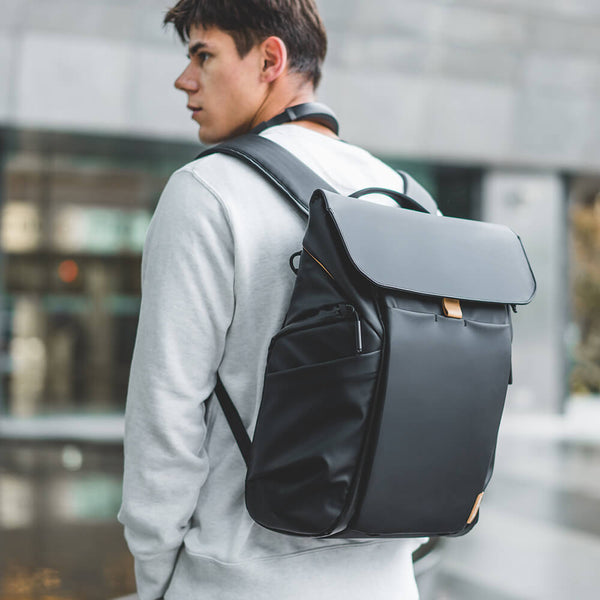 Disadvantages of a leather camera backpack
The main disadvantage to a leather camera backpack is the incredibly amount of maintenance it needs. Different type of leathers require different type of maintenance and they scratch easily. Because of the material, the price is usually much higher compared to other bags and animal lovers probably aren't too comfortable wearing a leather bag.
Polyester with high-performance coatings
Advantages of a polyester camera backpack
Polyester is the most popular material for a camera backpack. To protect your valuable gear, it has high performance coatings to become scratch, wear and water resistant. Polyester camera bags usually look a bit more modern and urban.
Disadvantages of a polyester camera backpack
Polyester camera bags may look nice, but they're usually a lot heavier than other camera bags. Color consistency is usually also a huge problem with polyester bags. 
Waterproof zippers
 Most zippers are somewhat water resistant, but if you would like to stay dry during heavy rainstorms, you'd better choose a backpack with a fully waterproof zipper. There are a couple of ways to increase the water repellent properties of your zipper:
Use wax to cover your zipper teeth to better repel rain.
Use a fabric rain cover to protect your zipper from the rain.
Cover your zipper with a rubber or PVC coating to make it waterproof when zipped up. Some brands, like YKK, provide these kinds of waterproof zippers.
Detailed waterproof design
Even though many manufactures are aware of using waterproof fabric to construct a camera backpack, there are still some easy-to-overlook parts (like the bottom or the top of your backpack) that might allow the rain to enter your bag.
Adding leather to the bottom
A camera backpack with a leather bottom will last longer and be much more waterproof. Many outdoors camera backpacks also add more padding on the bottom to make it more protective when your bag hits the ground.
Rain cover on top
Even though the fabrics are waterproof, the back panel remains fragile. The back panel is usually designed with a honeycomb structure and made of breathable materials. This makes the back panel very vulnerable to rain. To combat this, a rain cover on top is the perfect solution.
Backpack rain cover
If you still worry about whether your camera backpack can withstand heavy rains, the backpack rain cover will give it extra protection. A camera backpack with built-in rain cover is a great option, but you can also buy a rain cover separately. PGYTECH has a very effective rain cover that is perfect for bags of up to 25L.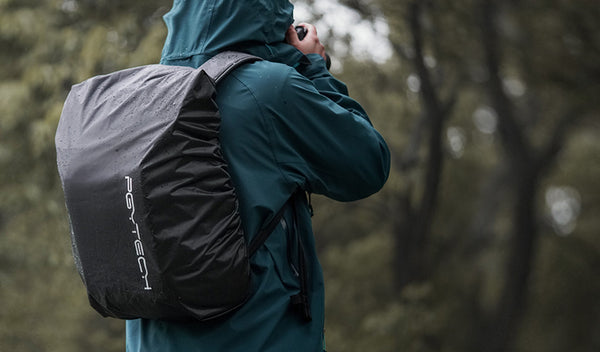 Professional waterproof grade
Rain covers have different waterproof ratings (mm), which means they can only be used in specific conditions. PGYTECH's Backpack Rain Cover 25 L has a waterproof rating of 8000 mm, which means it is rainproof and waterproof and can withstand light pressure.
Foldable & compact
Rain covers can be rolled up compactly for easy storage. Keep it in its own built-in pouch and use the lanyard to attach it to your backpack.
A drainage hole to keep items dry
 When not in use, it helps expel excess moisture to keep the inner part dry.
A Lifetime warranty
Recommendation of Waterproof camera backpacks
OneMo Backpack 25-35L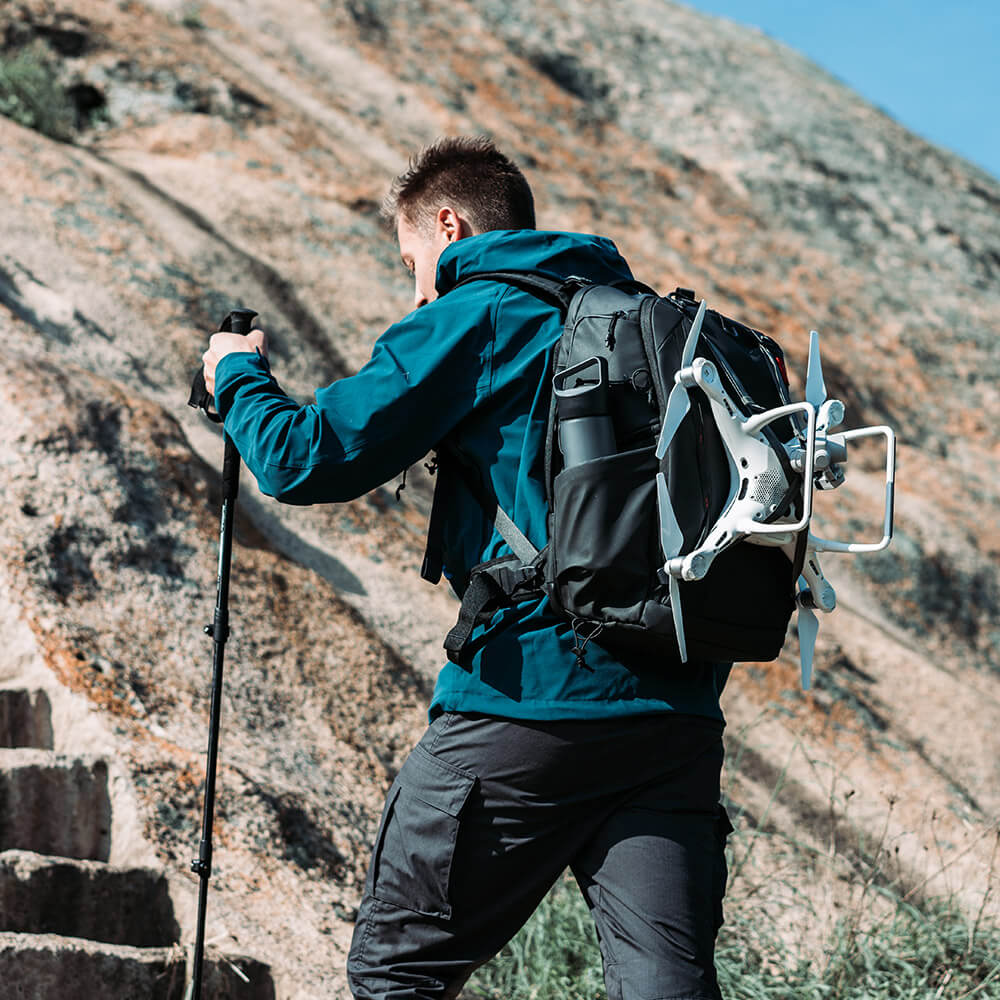 A modular camera backpack compacts dual bags in one and fits multiple occasions. The built-in pouch inside can be used as a shoulder bag, which fits a Mavic combo or a camera and lens. The customizable dividers can be arranged based on your needs and gear. Also the expandable space extends the capacity from 25L to 35L. It can store your gimbal without having to dismount it.
The fabric is scratch resistant and the shoulder straps contain a waterproof cover. It also comes with a professional rain cover.
OneGo Backpack 18L
OneGo backpack uses high-performance fabrics that are entirely waterproof. The zippers have been manufactured by YKK and contain a waterproof coating to block out rain. It's compatible with the PGYTECH Backpack Rain Cover.
The clamshell design and side pockets allow you to easily take out your camera gear. Updated customizable dividers offer increased security and organizational capabilities. The straps and back panel use innovative materials that create a ventilated experience.
Both enjoy a lifetime warranty.